About All the Single Ladies
• Paperback: 400 pages
• Publisher: William Morrow Paperbacks; Reprint edition (May 10, 2016)
In this fast-paced and evocative novel, beloved New York Times bestselling author Dorothea Benton Frank again takes us deep into the Lowcountry of South Carolina, where three unsuspecting women are brought together by tragedy and mystery
Lisa St. Clair knows a thing or two about weathering storms. A dedicated nurse with a healthy sense of humor, she single-handedly raised her truculent daughter, Marianne, after her ex walked out on them twenty-four years ago, sending them a lottery ticket once a year as support. One day he reappeared and lured their daughter into a dubious but lucrative venture in Colorado. Now mother and daughter aren't speaking.
So when Kathy Harper, Lisa's favorite patient, loses her battle with cancer, Lisa finds herself drawing closer to Carrie and Suzanne, the devoted friends who were always by Kathy's side. As these three women's lives inevitably connect, they share their concerns about men, getting older, and the horrors of maintaining financial stability. Suzanne's ninety-nine-year-old grandmother, a former chanteuse, offers unexpected perspectives on the mores of the day. Carrie's greedy ex-stepchildren are a chorus of cackling crows. And Lisa's mother just can't help herself as she henpecks her to distraction.
Somehow their conversations always return to the enigma of Kathy. Who was she? What did her short life mean?
As Lisa, Carrie, and Suzanne power walk the beaches of the Isle of Palms, they gradually uncover the truth of Kathy's life and unfurl plans to secure their own futures, as fate steps in to help them discover that being single doesn't have to mean being alone.

Purchase Links
HarperCollins | Amazon | Barnes & Noble
My Review
I don't know which came first, this book or the song by Beyonce. This review has nothing to do with her song. I am writing about the book by Dorothea Benton Frank. I have again had the privilege of reading a book by someone I didn't know, courtesy of TLC Book Tours. Thank you TLC.
You know that I am partial to books with nurses in them, especially when the nurse is a main character. Lisa St. Clair is a nurse at a geriatric facility, Palmetto House Assisted Living Facility, and she loves it, and babies her dog, Pickle. She cares about the residents and is able to connect with many of them and is able to help them. Lisa is also divorced, and has an adult daughter who won't speak to her. It might be because Lisa is not happy with Marianne's choice of vocations, arranging tours in Colorado for folks who want to be in marijuana heaven. Colorado has legalized marijuana use. Lisa has a high moral standard, and selling dope just doesn't make sense. (I am with her on that one.)
While working at the facility, she meets a lovely lady, Kathy Harper, who is dying of cancer. Kathy has two caring and faithful friends, and through Kathy, Lisa finds herself with two new friends. And as it says in the title, these two ladies, Carrie and Suzanne, are also 40ish and single. Carrie is impulsive, funny, and determined to find a new man for her life. After all, husband #3 dropped dead at the altar during their wedding ceremony.
Suzanne is single lady #3. She lives on the beach with her 99 year old, spunky, gin drinking mother, "olives please," Miss Trudy. She hasn't had a whole lot of luck in the relationship with men world either. Suzanne is Kathy's executor, and strange things start to occur when bills for expensive things start to arrive in the mail after Kathy's death.
Mix together a wicked landlady with a gun, 3 men of various stations in life, Lisa's unusual parents, a druggie, and octogenarian with a rubber ducky, sudden homelessness, a search for a missing husband, and very hot and muggy weather in South Carolina, and you have the making of a hurricane waiting to happen.
I will admit that I felt the beginning was slow, (I've heard life moves slower in the deep south.) and I kept hoping something would happen. Well, when it did, one strange thing after another tumbled over each other and the heat was on. (Pardon the pun. I related it to the description of the heat in South Carolin-ee.) It was an enjoyable read after the action started and I laughed and got angry right along with the trio of single ladies over some things.
I won't give any more hints. My recommendation is to read it for yourself. Despite the slow beginning, I would still give this book 4 stars out of 5.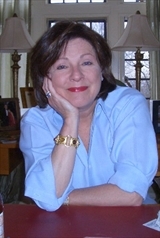 About Dorothea Benton Frank
New York Times bestselling author Dorothea Benton Frank was born and raised on Sullivans Island, South Carolina. She resides in the New York area with her husband.
Find her on the web at www.dotfrank.com, or like her on Facebook or Twitter.
Tour Stops
Wednesday, May 11th: Books and Bindings
Thursday, May 19th: Sharon's Garden of Book Reviews
Monday, May 23rd: Back Porchervations
Tuesday, May 24th: Tina Says…
Wednesday, May 25th: Mama Vicky Says
Thursday, May 26th: Joyfully Retired
Thursday, May 26th: A Wondrous Bookshelf
Monday, May 30th: Queen of All She Reads
Tuesday, May 31st: Lavish Bookshelf
Thursday, June 2nd: The many thoughts of a reader